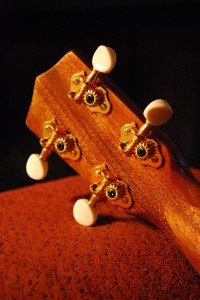 Tonight I made some mods on my ukulele!  I got my clip-on ukulele tuner, and my new set of Grover tuning machines.  These things are really nice, however I had to drill out the headstock to fit them and one of the tuning pegs I drilled out too far.  I had to secure the bushing with a bit of wood glue, so no harm done.  I had a bit of trouble with the small screws that hold the tuners in place.  They are very small and one of them went in crooked, so it was difficult to get seated all the way down without tearing up the screw head.
Eventually I worked it out, and these things keep in tune so much better than the old friction pegs.  My Aquila strings should be here soon, so I'll have everything upgraded and this thing done!  A happy accident – as I was getting the tuners installed the sound hole decal rubbed off and I like the thing a lot better without it.  Now it looks a lot classier. 🙂
Maybe after my new strings show up I'll post a video so everyone can hear how it sounds!  More soon!