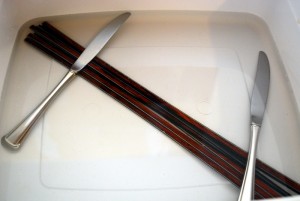 Today I got a lot of work done on Dad's ukulele.  Thanks to some lessons learned from the last kit, I was able to get the kerfing and binding channels routed without major incident.  Thanks to the ultra-crappy build quality of the Grizzly ukulele kits, the thing was considerably destabilized again so I decided it would be best to attempt to bend and glue the binding.  Bending the binding was pretty fun, however I did push a little too hard and cracked the binding in one place.  It was repairable, so no real loss there.
Unfortunately, tragedy struck again while I was trying to fit the binding.  While I was attempting to press the binding into the channel too much pressure was applied to the back of the ukulele and the lack of glue in the Grizzly kit was once again made apparent. This time most of the back came apart from the sides and part of the lower bout came apart on the top.  Since the channels were routed properly, this one was fixable.  I simply had to glue the sides back to the top and back and hold it in place until the glue started to set.  I want the glue to dry fully before I attempt to do more of the bindings, so I had to suspend my bending operations for the day.
I'm counting today as a success, since I learned from my past failures and was able to repair the shoddy workmanship this time around. With any luck I'll need one more session to get the bindings bent and glued, then sanding, assembly and finishing.  More soon!