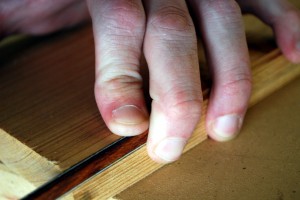 Today I started the complicated work on my Dad's ukulele.  He wanted me to install cocobolo bindings, something I have never done before.  I followed the instructions as best as I could, taking special care to measure things carefully and test out my cuts on a piece of scrap.  The StewMac binding router bits worked like a charm, and after a little practice I was ready to make my first cut on the ukulele itself.  There was no going back now!
The first cut that I had to make was for the purfling strip, which needed to be as wide as both the binding and the purfling together.  This was a wider cut, which ran the most risk of ripping the top right off the ukulele.  I was really pleased to make both of those cuts on the front and the back of the ukulele without incident.
The second cut is the ledge for the binding, which is a narrower cut but deeper down the side.  When I clamped the ukulele down I heard some cracking, and on closer examination the kerfing strips that brace the inside of the ukuele were very poorly glued.  I told myself that I needed to be careful, so I took my time when doing my test cut for the binding.  Everything seemed fine, so I carried on across the back.
As you can see, this cut seemed just fine.  Gaining confidence, I started in on the top.  I couldn't tell the extent of the crappy glue-job until I noticed that the top of the ukulele was sagging because the entire bottom edge of the kerfing wasn't glued AT ALL.  This caused the router to sink lower and cut deeply into the side of the ukulele.  Damn.
I tried for the rest of the afternoon to even the sides down to a consistent measurement so I could re-glue the top on, but on second thought this might dramatically affect the sound of the ukulele and I'd rather not waste the binding material and risk messing up the tuners on an experiment, so I am going to order an additional kit.  I tried cutting the binding slot using a shallower bearing on the back and it seems that this going to be the trick.  You can see the damage to the left.
At least it was a learning experience!