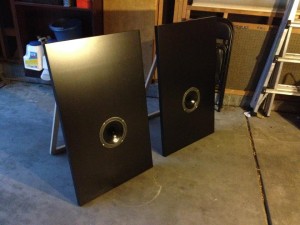 My buddy Jeremy came over today and we started and finished a fun project. Â Jeremy's hobby is recombining old audio equipment into a great sounding setup. Â On his own system, he got rid of a very expensive audiophile setup in favor of the results that he could produce himself. Â After he let me listen to his setup, I was very interested in understanding more about what he does. Â He prefers an open baffle setup, where full range speakers are mounted into a flat panel and modified to produce high end sound.
Several months ago, we headed to IKEA and picked up two VIKA AMON tabletops for around $10 apiece. Â Today, these tabletops got outfitted with some homemade backs similar to an easel back to stand them up. Â The modified speakers were mounted near the bottom for now, with plans to add tweeters and subwoofers later. Â The whole project took about $50 and 4 hours to put together from start to finish, and it turned out great! Â We did a test-run of the speaker setup and it's great… the other benefit is that they stand up very flat and can be stored away… that's important with the limited space and curious toddler situation that we've got going on right now.
A few fun things… first, forstener bits are awesome. Â I got several of them and got to use them today. Â Second, the VIKA AMON tabletops are constructed interestingly (and ideally) for this project. Â They are made of around 1/16″ of hard formica-style surface on each side, and a weird heavy-duty corrugated cardboard honeycomb on the inside. Â That makes it light and easy to work with. Â Last, but certainly not least… it was fun to do a little side project. Â Now I've got a great new speaker setup for not much money, and I know a little more about how these tools work. Â This will help my guitarbuilding projects even more!
That's all for now!